July 4th Parade…From the Perspectives of a Commercial & Recreational Pilot
"July 4th Parade…From Both Commercial & Recreational Pilots "
By Steve Simpson, Club Officer
The Drone Club meets the FourthMonday Evening of each month from 7 PM to 8 PM in Room 104 at the Creative Arts Technology Center. We have No Dues and Attendance is Openfor any Robson Resident who is interested in anything that is Drone related regardless of what they own or understand but have a desire to learn more about.
Attendance = 10 | Total Members = 31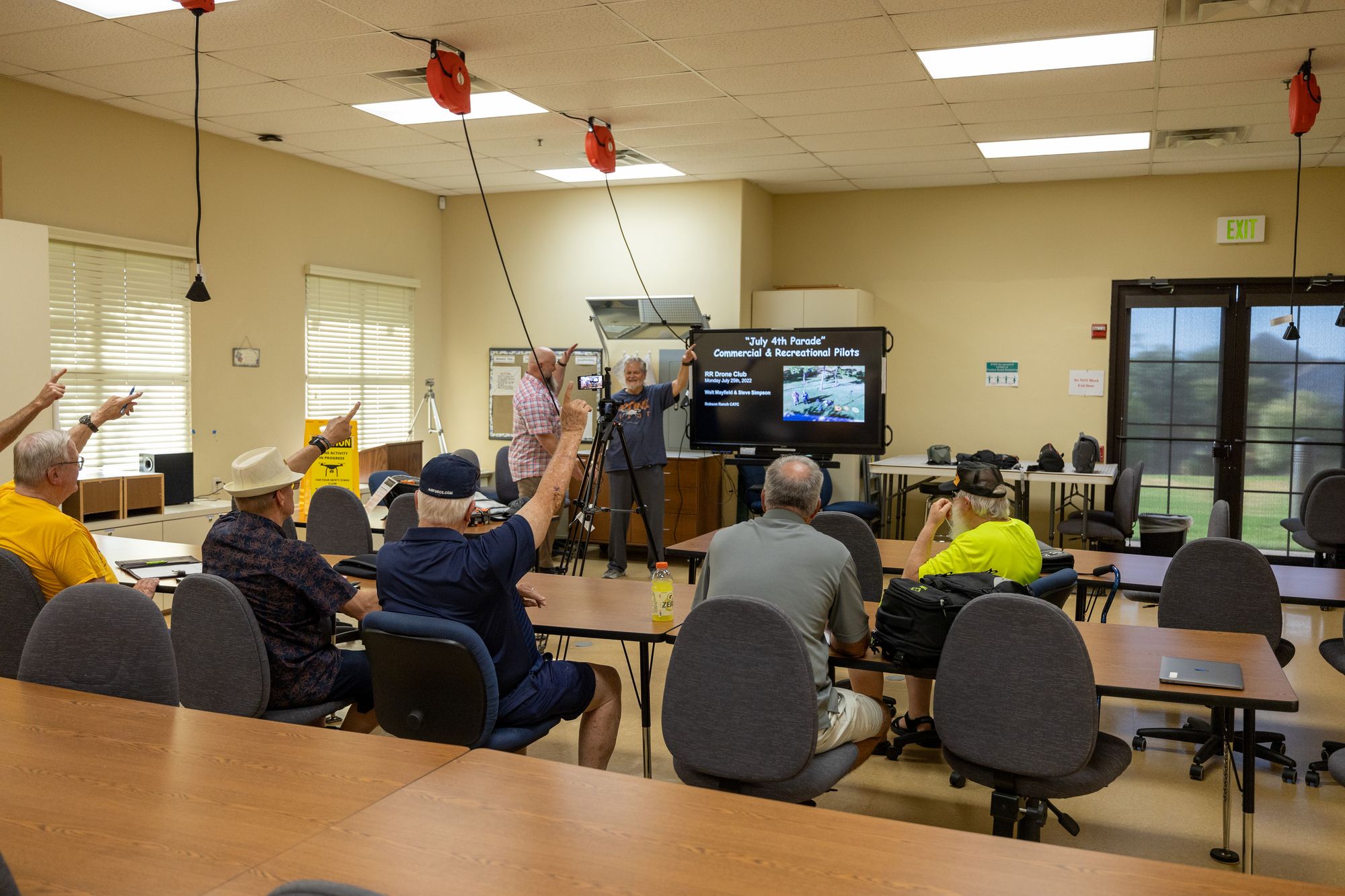 Our July 25th Meeting was hosted by Walt Mayfield(Commercial Pilot) & Steve Simpson (Robson Drone Club Officer). Walt & Steve's Presentation Main Topic was "July 4thParade…From Both Commercial & Recreational Pilots".  An In-depth Presentation was made of "Capturing Drone and Ground Images of the Robson July Forth Parade" including the Agenda Topics of "Pre Flight-Strategy Walt"… "Pre Flight-Strategy Steve"…"What Did I Learn Walt"…"What Did I Learn Steve"…"Changes for 2033"…."YouTube Music Videos"…and "Wrap Up with Questions and Answers".
There was much open dialog and interactive discussion during the meeting with questions regarding the following "Why was it necessary to have a Commercial Pilot"…"Why both Drone and Ground Cameras"…"Where There any FAA Restrictions" and "Will You be Monetizing Your Images and Videos"  .
Our Next General Meeting Session is scheduled for Monday September 26that the Creative Arts Technology Center Room in 104 and we are planning a "Drone Fly In | Image Contest"
We hope to see everyone then.